← Click to go back to selection page
Advertise on au-di-tions.com by selecting a Banner Ad and working together to build a successful promotional marketing. We can discuss other options than the banners listed below…
→ Who are our visitors? Professional dancers, dance teachers, dance students, dance companies, dance lovers, performing arts institutions and art centres staffs, amongst others…
→ Why us? 370.000 Avg. Monthly Page Views, 80.000 Avg. Monthly Unique Visitors, reaching 6000 Email Subscribers,… Learn more at the bottom of the page.
→ They have trusted us: Kibbutz Contemporary Dance Company, The Henny Jurriëns Foundation, CESA, deKissMoves, Art of, Laughton Retreat, New Jersey Dance Theatre Ensemble, ADAM, The String of Body, Nomad Dance Academy, Joint Adventures, BIDE, amongst others.
→ How? NO JUST A BANNER! We publish the banner and also a post with all the information about your event, then share it OFTEN in the social media. We also will make a Dedicated Promotional Marketing of Your Ad and promote your Facebook posts as well.
Contact us if you have any question or if you need any assistance to design your banner ad (we can do it without extra cost).
*There are great discounts if you publish your banner for multiple months.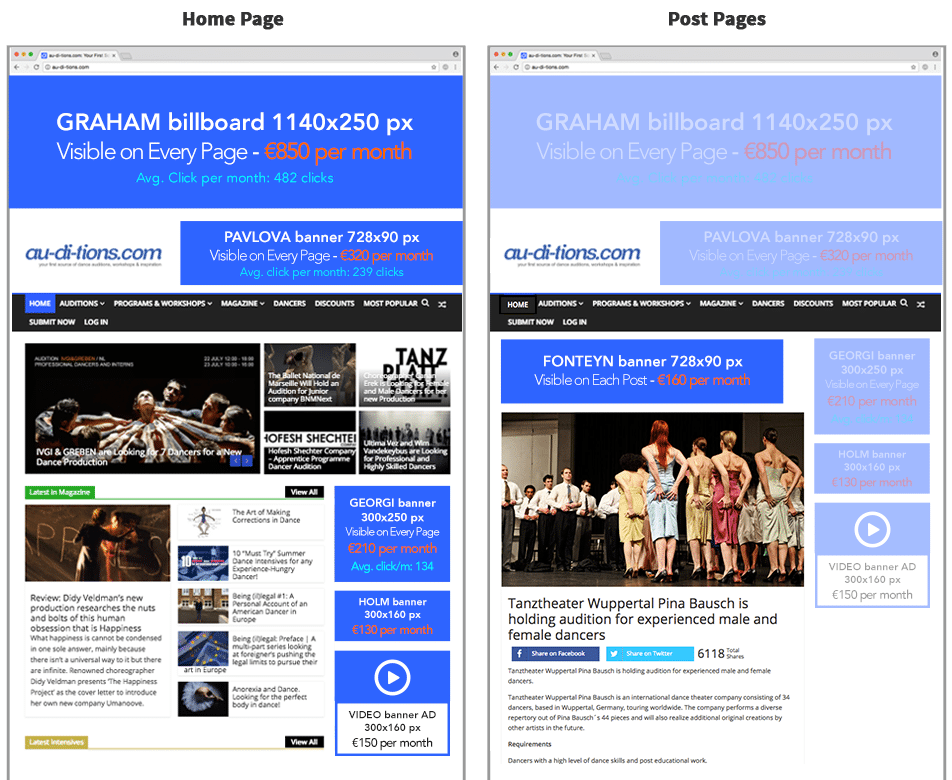 Where Your Money Goes?
e-performa.net is a project for the performing arts community. We develop project that can have an impact on the development career of our subscribers.
Your will support:
Management and development of e-performa.net Mail Listing of Opportunities.
Management and development of au-di-tions.com Website
Research, writing and publishing of articles, interviews and reportages on stories and untold stories in the dance world.
Development of new Free projects for the contemporary performing arts community.
Thank you for your Support!
Some Numbers…
au-di-tions.com Stats:
Click on the numbers to see a document or web page that prove these stats.

370 000 | Avg. Monthly Page Views
80 000 | Avg. Monthly Unique Visitors
14 700 | Facebook followers (au-di-tions.com)
2 450 | Facebook followers (e-performa.net)
5 480 | Email Subscribers (au-di-tions.com)
Top 10 Countries:
United States
United Kingdom
France
Germany
Italy
Netherlands
Spain
Belgium
Canada
Australia
Source: Google Analytics
Questions You May Have
I will have my banner an a post. How many time you will share my post?
As much as possible before the deadline. Always thinking on your target and not to bother people on the social media…
Can I update my post any time?
Yes, for Free.
How Can I Make the Payment?
You can make a secure payment via bank transfer or via TransferWise.
Can I receive an Invoice?
Yes, Of course
Can my banner be published before I make the payment?
Yes, banners are published once we agree on the price and we have received the graphics. We don't need to wait for the bank transfer to publish the banner and the post.