Review: Aurora a Choreography by Meytal Blanaru
by Dalton Alexander
April 20, 2017. Brussels.
As part of "An Artistic Identity Swap" between Les Brigittines and beursschouwburg, Meytal Blanaru performed her deeply researched solo, Aurora, on April 20, 2017, which had originally premiered in 2014. For a festival dealing with identity – and muffled by the hype around Art Brussels and Kunstenfestivaldesarts (opening May 5) – Aurora snuggly fit in as an intimate meeting with Blanaru allowing us to pause, breathe, and reflect.
If one were to enter into Blanaru's ethereal atmosphere without knowing any background of the work, one would see a highly controlled body constantly finding freedom within a strict structure. Blanaru's embodiment, awareness, and presence invite the audience to witness with one's whole being instead of just their eyes and mind. Her intricate articulations evoke the image of mesmerizing claymation – allowing us to question who she is and why she is behaving a certain way. There is no narrative, only a removal of shoes and exploration of space.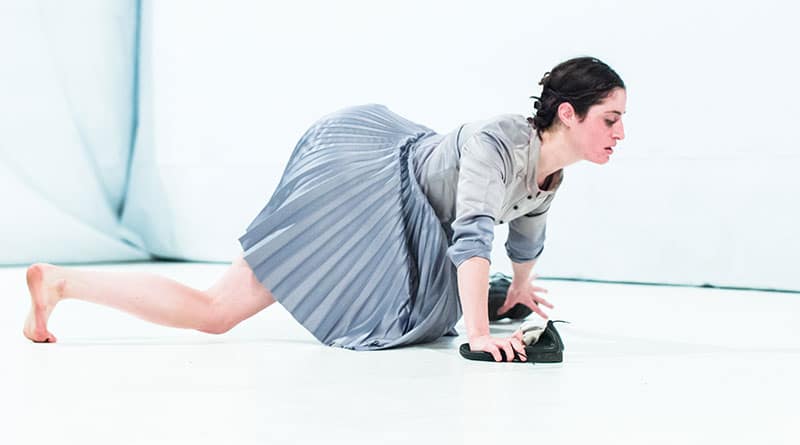 Having read the background of the piece provided in the program, one realizes the depth and intrinsicness of the work. By starting with a question many humans consistently ask, "Who am I?", Blanaru takes it a step further to question, "How much of who I am really comes from within myself, and how much has been carved and shaped by society's norms?" This, to me, is approaching the ultimate question we humans must continually ask in order to better this world, make a change, and fight degrading norms.
Aurora exposes one way to research this question by combining Blanaru's profound interest in somatic works like Feldenkrais with historical research into people who may essentially be as close to Self as possible. What she found in this research were people who derived themselves from themselves with little to no societal dissuasion in their upbringing. Aurora is dedicated to a specific person who Blanaru believes embodies this very idea of the Self. Unfortunately, the story becomes quickly disheartening as information becomes available. I wouldn't like to give too much away so, if interested, see for yourself. Nonetheless, translating this embodiment into Aurora allowed for a rich texture and environment that is alive and engaging, but certainly not gleeful.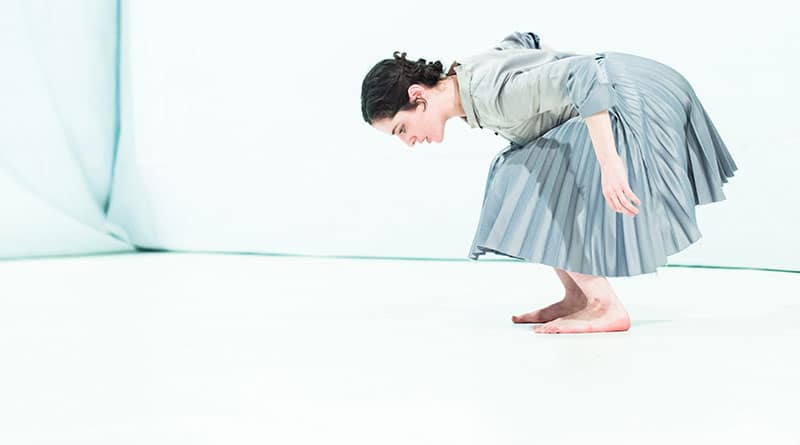 While watching we may ask if the world Blanaru creates is, in fact, realistic. But, then again, how do we know the true definition of real if we have never truly experienced ourselves as solely ourselves?
Meytal Blanaru is originally from Israel. Having moved to Europe in 2009 she brings with her a deepening interest in the use of Feldenkrais as a point of departure for dance performances. She often teaches at Danscentrumjette in Brussels and is set to create and premiere a new work in collaboration with their new performance series, danske, in July 2017.

Europhile from Albuquerque, New Mexico. Dance Artist. Researcher. Activist. Philosopher.

Latest posts by Dalton Alexander (see all)