Review: Ritualistic Femininity and Judy Chicago's "The Dinner Party" in Sasha Waltz's new creation "Women"
By Susie Yugler
This year, Berlin's international dance festival, Tanz im August, presented by HAU Hebbel am Ufer, lasted three weeks from 11.8- 2.9. The festival produced 28 productions in 11 locations throughout the city – among them 3 world premieres and 14 German premieres. Feminist performance and inquiry was abundant in the festival and exhibited by some of the most skillful female artists in contemporary dance. The work of Spanish-Swiss choreographer and performance artist, La Ribot, for example, was showcased in an entire retrospective of her work. One premiere in the festival that created a buzz amongst European dance devotees, was Sasha Waltz & Guest's new creation "Women" performed at St. Elisabeth Church in Berlin-Mitte, designed by Karl Friedrich Schinkel.
It's dusk–– the streetlights turn on, and the light outside of St. Elisabeth Kirsche is a dull blue; a farewell to summer. As we enter the church, the space is ominous, if not chilling. The lighting is dim, and strikingly natural as if the only source of light is drawn from the gray clouds penetrating through the skylight above into the cavernous space. The minimal soundscape is atmospheric, vast, and cold– St. Elisabeth feels less like a theatre and more like a tomb, which is fitting for this particular work. "Women" as the title suggests, is performed by 20 women, "a choreographic ritual" as Sasha Waltz defines in program notes. The work draws upon a ritualistic and ceremonial movement language and American artist Judy Chicago's monumental installation work, "The Dinner Party" (1979, Brooklyn Museum, New York) as inspiration. As we find our places around all three sides of the center, a group of twenty women dressed in lengthy black or neutral-colored dresses appear from the pulpit on the fourth side and cross down into the space before us.
From the start, it's clear that Waltz aims to highlight distinctions amongst the all-female ensemble, particularly in their movement qualities. In the many moments of unison ensemble work each dancer submits their own distinctive translation of the choreography; conveying the idea "woman" with her own arms, hands, head, feet, gaze, and so on. One of the many gorgeous aspects of the work is this sense of agency afforded each dancer in their varied interpretations of a single theme, and the nuances that engenders within the "unison" phrase work. In the first section, Waltz layers physical representations of how women function, together and apart. In this framework, a woman alone is often collapsing to the floor, divinely cursing another, gazing longingly at a viewer, or falling behind the pack. Duos and trios perform a kind of intimacy of a distinctly feminine nature, that of sorority or matriarchy. And together as an ensemble the movement is wholly tribal and ritualistic.
The work is full of surprises, which unveil a tension between the sensual and sexual nature of the work and a darkness that lies just beneath it. In a swift transition, the ensemble moves upstage and begins to de-robe. Following this gesture, a woman emerges from the group and delicately places an object on the floor, which closely resembles a bloody fetus. When the elements of blood and gore enter into the piece and remain as a central theme, it's unnerving. The shock of it is ironic– as blood is both ritualistic and an emblem of the life cycle, particularly in female bodies. *The use of such characteristic components of the female anatomy in a piece entitled Women– warrants a brief mention of this piece's position in contemporary feminist discourse. By this I mean to say, the work only accounts for "women" anatomically, as those whose bodies biologically engage in the process of menstruation and birth. Women must not be considered an entirely inclusive feminist work, as it seems by all accounts oblivious to the rigidity of its own definition of "woman." However, it is of a certain feminist perspective nonetheless, as it points to Judy Chicago's monumental feminist installation "The Dinner Party" (1979) for its primary inspiration; which was made in a different moment of feminist discourse.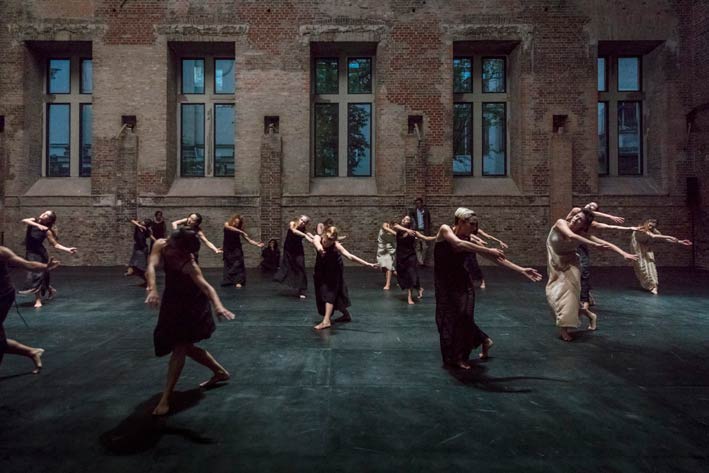 The presence of blood early in the work is powerful in it's ability to transform and complicate the implications of the naked women before us. With a cast of aesthetically striking performers and a wholly sensual, sometimes erotic movement language, Waltz navigates the gray area between sensuality, objectification, and eroticism in the various moments of partial and full nudity. It is most powerful early in the work as naked women slowly (and shockingly), pull bloody objects from various surfaces of their bodies. In a way, the graphic use of blood and gore in this scene overshadows the instinct to sexualize the bodies before us, sex is present yet instead we see woman as a vessel, as barren, as bleeding, as a loss, as a gaping wound. It is profoundly biblical and ceremonial in this sense.
Later, Waltz conjures a Judy Chicago inspired dinner scene, pregnant with bizarre tableaus and provocative gestures. While somewhat religious, the erotic and sensual tableaus signal a kind of feminist awakening. The images drawn before us almost suggest a "Last supper" with only women, or a narrative of "woman" not made from Adam's rib, but rather the blood and guts of other women. At times the work is almost comical, when the dancers would accessorize themselves throughout the work in sausage guts and bloody parts, eat one another's hair as spaghetti, and slather themselves up with butter knives, only to be devoured by the eyes of the audience. Imagine Tim Burton's 1988 film, Beetlejuice, as if it were interpreted by a cast of twenty virtuosic dancers.
However, unlike Judy Chicago's work, which dedicates 39 place settings for influential women in western history both fictitious and real, Waltz's dinner table is more concerned with the iconic images of women that fit into the notion of ceremonious or ritualistic femininity. Throughout the work, the ensemble vocalizes a hybrid of moans, growls, hisses, screams, hums, chants, whispers, but rarely words. In this way, the choreography never really comes close to a human or modern representation of women. Instead, the female-figures gracefully drawn before us are not "women" of modern day. Rather, they summon the essence of greek goddesses, Sirens, religious icons, fierce warriors such as the amazonas, or iconic images like the "Birth of Venus."
The work has many climaxes, with little reassurance, something that seems to me, an echo of the ever-unresolved political and social position of women in western society. Nearing the end of the work, the women break free of their bloody accessories and table manners and run exquisitely through the space. Their running is effervescent with a sense of freedom and fear all at once.  The women spill on top of one another in hysterics. The laughter then boils into a frenzy of ambiguous cries and screams before they cascade into a chorus of sobs and finally into a harmonious humming. And at the very end–– they leave. Here, for a fleeting moment, a glimpse of the humans behind the choreography comes through and that is where the work is profoundly compelling.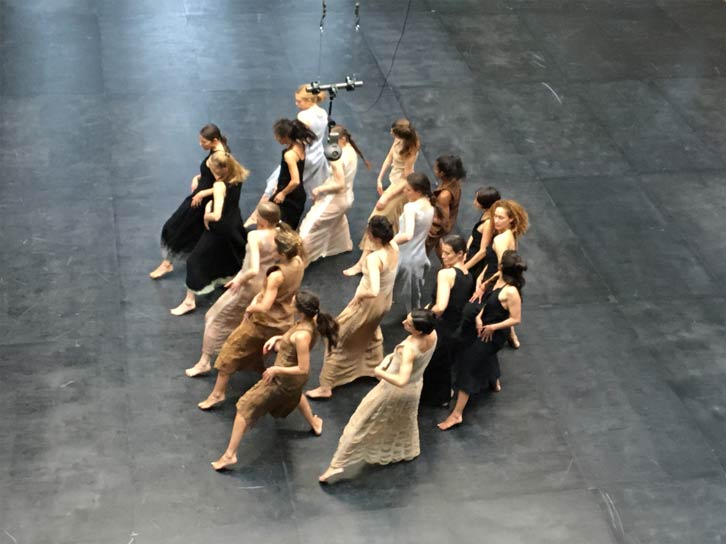 Waltz has said about the work, "Women" is my first choreography, in which I am working exclusively with female dancers. I often have women-only scenes in my work, so it was only natural to go one step further and to dedicate a full piece to women."
Waltz's explanation for creating this epic choreography, is perhaps the biggest, if not, only disappointment of the work. Dedicating one piece of choreography to women because it's "only natural" seems to me, a passive way of signaling alliance in a very fraught political time for women. In a world where women are to this day, fighting for rights over their own bodies; the right to an abortion, free birth control, equal pay, and judicial systems that are stricter on the politics surrounding rape and abuse– there is a lot more to be said about why an all female cast, and performance work about women is not only natural and relevant– but crucial to make today, as it always has been.
As one of Europe's most successful living choreographers, in making her first all-female ensemble work within a 25-year career, my only question for Sasha Waltz would be: What took so long? Considering the work as a whole and in relation to Waltz's earlier works, which explore ritualism and myth, the work is hardly political without the reference to Judy Chicago. The priority of the work is not feminism. Sasha Waltz labeling it as a choreographic ceremony "celebrated by woman" does not alone constitute a feminist work. Yet it is a choreographic ritual performed by women, and a striking one at that.
—
All photos © Ute & Luna Zscharnt
Susie Yugler is an American artist and writer based in Berlin. She works in the intersection of contemporary dance, performance art, and experimental theater.
Latest posts by Susie Yugler (see all)